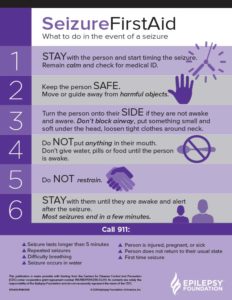 Seizures can be startling. However, for most people with epilepsy, a seizure is not an emergency. If you see someone having a seizure, your goal is to keep the person safe. In most cases, the seizure will stop on its own. Even so, it is important to follow some basic seizure first aid tips to help and protect the person experiencing the seizure. Become seizure first aid certified! Click here to learn more and register for your free certification course.
Managing an Epileptic Seizure
Stay
If someone is having a seizure, stay with them and remain calm. Look at a clock, a watch, or your cell phone to time the seizure. Put something soft under the person's head and turn them onto one side in order to protect the airway.
Safe
It can be tempting to restrain the person seizing, but this is not recommended. Instead, move or guide the person away from harm. Clear the area by removing anything hard or sharp that could cause an injury.
Side
If the person having a seizure is not awake and aware, turn them onto their side. To keep them safe, loosen ties, scarves or other restrictive item to help their breathing. Also, put something soft under their head. For example, a sweatshirt or even your hands. This helps protect their head from getting hurt.
You may have heard that people with a seizure could swallow their tongue. This is not true, and holding the tongue can injure both yourself and the person having the seizure. Do not attempt artificial respiration during the course of the seizure.
When to Get Help
While most seizures for people with epilepsy are not emergencies, there are some situations when it is imperative to call for medical help.
A seizure lasts 5 minutes or more
Another seizure happens right after the first one without the person regaining consciousness
The person does not return to their normal state
The person is injured, pregnant, or sick
They have trouble breathing
The seizure occurs in water
It is their first seizure
The person asks for medical help
To best help the person experiencing a seizure, stay with them until it ends. Give the person some space and clear any crowd that may have gathered. For the person having a seizure, a crowd can be embarrassing and overwhelming. As the person comes out of the seizure, be friendly and reassuring. If the person needs further assistance, offer to call a friend or arrange for a ride.