Wacky Winter Weekend®–summer camp, but much cooler!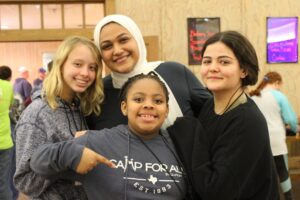 Some young people with epilepsy have environmental triggers. These may include warm temperatures and allergies. As a result, some avoid epilepsy camps altogether! With our Wacky Winter Weekend, campers enjoy all of the activities made available to Camp Spike 'n' Wave campers. This experience, however, takes place during the winter! It combines the outdoors and experiences of camp life with camaraderie and team building. It is a truly cool experience. Wacky Winter Weekend is for children and teens with epilepsy and/or seizure diagnosis between the ages of 6-17 along with a sibling or family member within the same age range.
This event is supported by private gifts. As a result, our Wacky Winter Weekend is greatly discounted.
Amenities
Our Wacky Winter Weekend is located on the Camp for All grounds in Burton, TX, Its features include:
Swimming pool (with wheelchair lift)
Challenge courses
Archery range
Horses
Arts and crafts
Cooking lessons
Beauty spa
Petting zoo
Reptiles (snakes and lizards, oh my!)
Kayaking/canoeing
Camp News Network (a news network produced by campers)
Disc Golf
Fishing
And more…